Certified Public Accountant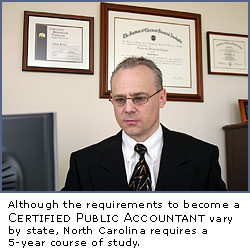 Because of the breadth of the study regimen, the CPA license is a leading credential among business consultants, financial managers, tax practitioners, accountants, and auditors.
Although the requirements to become a Certified Public Accountant vary by state, North Carolina requires a 5-year course of study.
All CPAs are required to have passed the Uniform Certified Public Accountant Examination which is comprised of four broad parts:
Auditing
Business Concepts
Financial Accounting and Reporting
Regulation (law and taxation)
To learn more about the requirements of becoming a CPA in North Carolina, click here.