Chartered Financial Analyst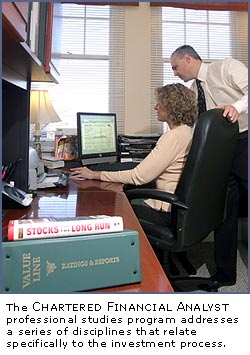 Post-graduate in nature, the Chartered Financial Analyst professional studies program is widely regarded as the global standard for measuring competence in the fields of investment analysis and portfolio management. This program leads to the dominant credential for securities analysts and institutional portfolio managers.
This professional studies program addresses a series of disciplines that relates specifically to the investment process:
Ethical & Professional Standards
Quantitative Methods
Economics
Financial Statement Analysis
Corporate Finance
Analysis of Equity Investments
Analysis of Debt Investments
Analysis of Derivatives
Analysis of Alternative Investments
Portfolio Management
To see a detailed list of examination topics, click here.
To visit the CFA Institute's website, click here.